British Crown Green Bowling Association
.
BCGBA Ladies County Average Winners Classic
x
The county average winners from the 2022 season assembled at Woodfield Sports & Social Club in South Staffordshire where the first of two BCGBA Ladies County Average Winners Classics of the season took place. 
All BCGBA competitions will now be played in the same year so the county average winners from the 2023 season will play again on Saturday 5th August, rather than the following year.
JORDEN PICKEN from the host county emerged victorious to receive the trophy from the Ladies President, Mavis Hancock.  In the final she accounted for Jayne Kent (South Yorkshire), winning 21-12.
Jorden made her intentions known from the off, leaving Ashley Zepleda (Wales) on just 2.  This was followed by a comfortable 21-12 victory over Amy Evans (North Warwickshire) but she was involved in a fierce battle with Shropshire's Tracy Bound in her semi-final, eventually winning 21-18.
All scores can be viewed via the Results tab.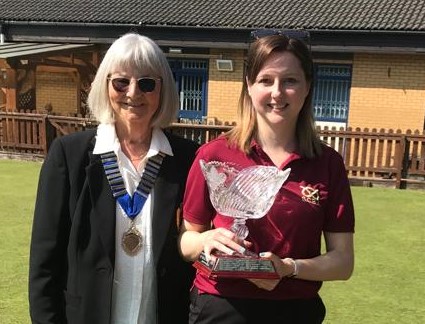 History of the BCG Ladies County Average Winners Classic
2023    August – Suzie Lawson (Lancashire)
2023

    May – Jorden Picken (South Staffordshire)
2022    Louise Ollerton (Greater Manchester)
2021     No competition
2020     No competition
2019     Katie Harrop (Cheshire)
2018     Fern Beaumont (Yorkshire)
2017     Sally Clee (Shropshire)
2016     Jordan Picken (South Staffordshire)
2015     Julie Holcroft (North Lancs & Fylde)
2014     Faye Montgomery (Warwick & Worcester)
2013     Claire West (Warwick & Worcester)
2012     Sue Pugh (Dudley & District)
2011     Nicola Boulton (Mid Cheshire)
2010     Alyson Evans (North Warwickshire)
Scroll down for previous years results