British Crown Green Bowling Association
.
BCG Ladies Senior Individual Merit
x
ANDREA BUCKLEY followed in the footsteps of last year's winner, Chloe Hirst, to keep the BCGBA Ladies Senior Merit trophy in Yorkshire when the sixty-four county representatives assembled at Tarleton Bowling Club, Lancashire, for this year's contest.
Buckley defeated the County Average Winners Classic winner, Jordan Picken (South Staffordshire) in the final, 21-14.  She clawed back from a 6-1 and 11-9 deficit to lay game at 20-11 only for Picken to deny her victory.  Picken moved on to 14 and was lying another two but saw her hopes of a comeback dashed as Buckley played a wonder bowl to clinch the title.
BCGBA Ladies President, Mavis Hancock, commented on the high standard of bowling throughout the day and presented the trophy and prize monies to the final competitors.
Buckley's first opponent of a long day was against her namesake, Charlotte Buckley from Greater Manchester on Green 1.  The champion-elect was always in control in her first-round game as she opened with a 21-12 victory and was then equally impressive in her 21-10 success over Shannon Kernick (Warwick & Worcester) on Green 2 in round two.   Back on Green 1, she ran out to game having trailed South Staffordshire's Vikki Wilson 12-11 to reach the last eight.
Picken meanwhile had a tough start against Debbi Davis from Yorkshire. She was coasting to a first-round victory on Green 2 with 12-5 and 19-11 advantages but was made to wait for victory as Davies fought back to get within a couple of chalks of her opponent at 18-20.  In round two she made sure there was to be no repeat as she stormed to a 21-8 defeat of Sarah Edmondson (North Lancs & Fylde) on Green 1 but back on Green 2 she again saw her opponent, Tracy Bound (Shropshire), fight back, this time from 16-9 down, to again get to within two chalks at 14-16.  Picken won three of the next four ends, to book her place in the quarter-finals, 21-16.
Just as the first of the quarter-finals were called to the green the Thunder & lightning storm that had threatened made its untimely appearance turning Green 1 into a lake and unplayable.  After an hour delay, it was agreed to play the quarter-finals on Green 2, which had cleared with not even a puddle in sight.
Buckley won a hard-fought match with Emily Weaver (Warwick & Worcester) 21-19 having trailed 13-8 at one point and booked her place in the final courtesy of a 21-18 victory of another Warwick & Worcester player, Emily Kernick in which she saw her 18-10 advantage disappear as Kernick levelled at 18 across.  Picken certainly found the green to her liking as she defeated Suzy Ladbrooke (Yorkshire) 21-6 and Dudley & District County Secretary, Susan Pugh, 21-8
The two previous winners, Nicola Boulton (Mid Cheshire) and Linda Williams (Wales) both made first-round exits.  Boulton lost 21-16 to North Warwickshire's Liz Buckley while Williams lost out to Shropshire's Sally King, 21-14, having led 14-12.
You can view all scores from the Results tab.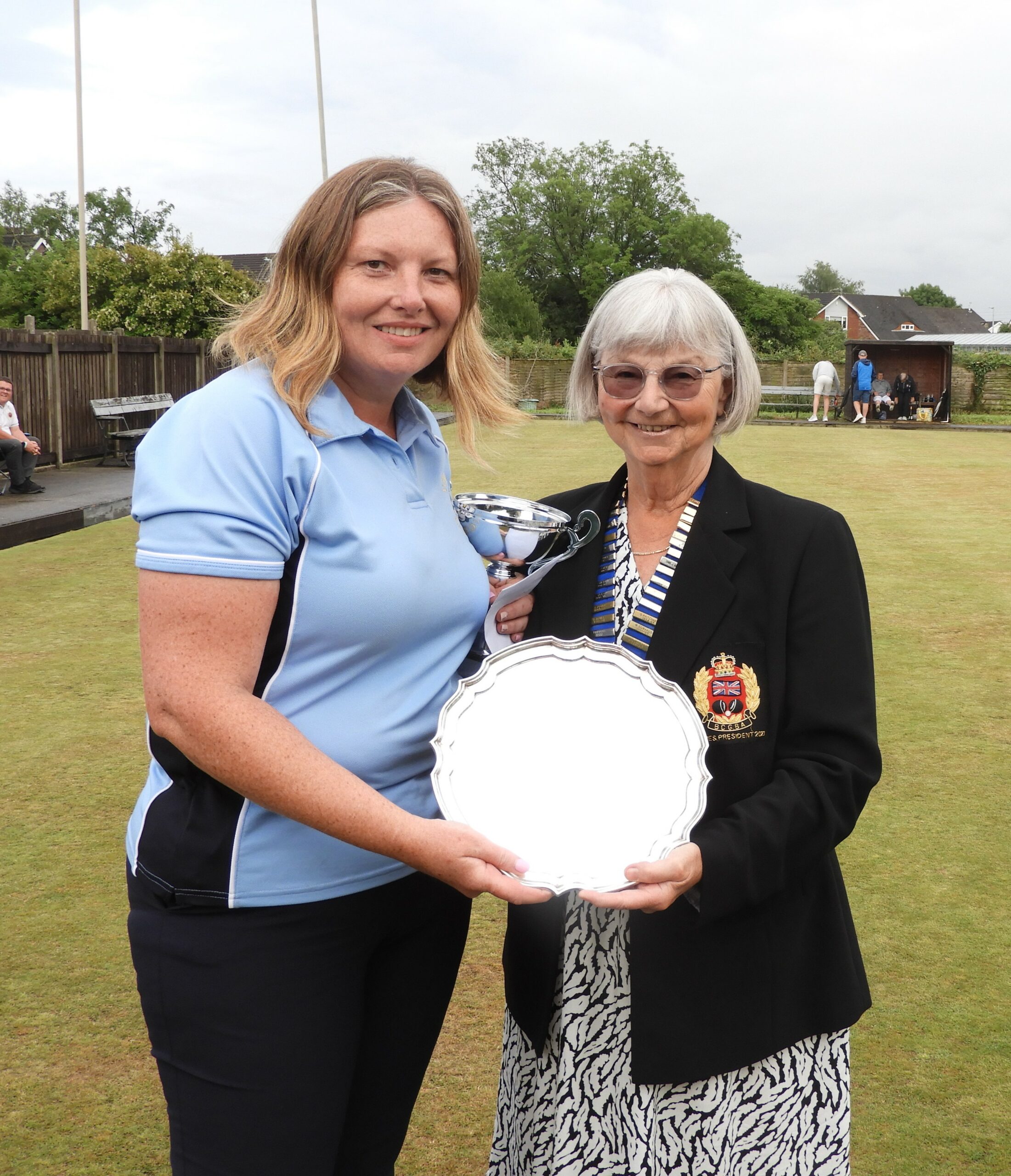 Scroll down for previous years results
History of the BCG Ladies Senior Individual Merit
2023     Andrea Buckley (Yorkshire)
2022     Chloe Hirst (Yorkshire)
2021     Jenny Moore (Isle of Man)
2020     No competition
2019     Nicola Boulton (Mid Cheshire)
2018     Sarah Nicholas (Wales)
2017     Kerry Brown (South Yorkshire)
2016     Tracy Ryan (Shropshire)
2015     Karen Gant (Yorkshire)
2014     Nicola Boulton (Mid Cheshire)
2013     Helen Gilroy (Yorkshire)
2012     Linda Williams (Wales)
2011     Maliza Herbert (Warwickshire)
2010     Kirsty Darling (Warwickshire)
2009     Maliza Herbert (Warwickshire)
2008     Catherine Lockwood (North Lancs & Fylde)
2007     Sarah Hey (Wales)
2006     Betty Phillips (Wales)
2005     Maggie Barnes (Coventry & District)
2004     Sylvia Smith (Lancashire)
2003     Maggie Pailing (Warwickshire)
2002     Lynn Pritchatt (South Staffordshire)
2001     Debbie Williams (Warwickshire)
2000     Lyn Baghurst (South Derbyshire)
1999     Beryl Fleming (South Staffordshire)
1998     Betty Redman (Warwickshire)
1997     Ann Roberts (North Lancs & Fylde)
1996     Maggie Pailing (Warwickshire)
1995     Pat Davies (Wirral)
1994     Lynn Pritchatt (Warwickshire)
1993     Ann Roberts (North Lancs & Fylde)
1992     Gay Cooper (Wirral)
1991     Sheila Cross (Staffordshire)
1990     Angela Gaut (Shropshire)
1989     Pat Murphy (North Lancs & Fylde)
1988     Marion Stewart (North Warwickshire)
1987     Kath Sperry (Derbyshire)
1986     Doreen Carran (Coventry & District)