British Crown Green Bowling Association
.
BCGBA Jack & Jean Isherwood Veterans Championship
.
With former winners, Noel Burrows (Cheshire) and Paul Stretton (Derbyshire) bowing out in the first round of the 2023 BCGBA Jack & Jean Isherwood Veterans Championship – Burrows losing 21-20 to Yorkshire's Howard Broadbent having been 20-14 up, while Stretton lost his way from 19-16 against Phil Boydell (Lancashire) to suffer a 21-19 defeat – a new name was guaranteed to be engraved on the trophy.  And that name was MARTIN SIMCOCK (Potteries & District) added his name to the winner's list when he recorded a 21-15 final victory over South Yorkshire's Andrew Sorsby played at Prees Cricket & Recreation Club in Shropshire.
Ian Howard (Yorkshire) was his first opponent of the day when he came from 13-9 down to go five in front at 18-13 with a run of 9 chalks without reply.  Howard hit back to level the match at 18 across but Simcock regained the jack to eventually win 21-18.
In Round 2, he faced North Midlands Alyson Evans, one of two ladies in the thirty-two strong field.  Evans had won her opening match 21-15 but suffered a nightmare start as Simcock stormed to 14 before she could get any points on the card.  Once Evans had the jack she settled into a rhythm but her bad start proved costly as Simcock finished a comfortable 21-12 winner.
Simcock posted the same scoreline in the quarter-finals against Brian Mallon (Greater Manchester) having always held the upper hand and booked his place in the final at the expense of Cheshire's David Jackson where again he was always in control in a 21-13 victory.
Sorsby's path to the final saw him overcome the challenge of Barry Harris (Wales) 21-14, Ronnie Regan (Warwick & Worcester) 21-13, Joe Melvin (Potteries & District) 21-17 and in a titanic semi-final battle with Lancashire's Phil Boydell he saw his 14-9 advantage reduced to an 18-17 deficit but held his nerve to get out a 21-19 winner.
In the final, Simcock made the better start to open up leads of 8-5 and 13-7.  Sorsby hit back to get within two of his opponent at 11-13 and then again at 15-17 as he started to put pressure on Simcock.  He was though unable to sustain this pressure on the 'Potters' player who kept hold of the jack to score singles at the next four ends and record a 21-15 victory.
BCGBA President, Martin Goddard, made the presentation of prize monies and the trophy to the 2023 winner.
All scores can be viewed via the Results tab.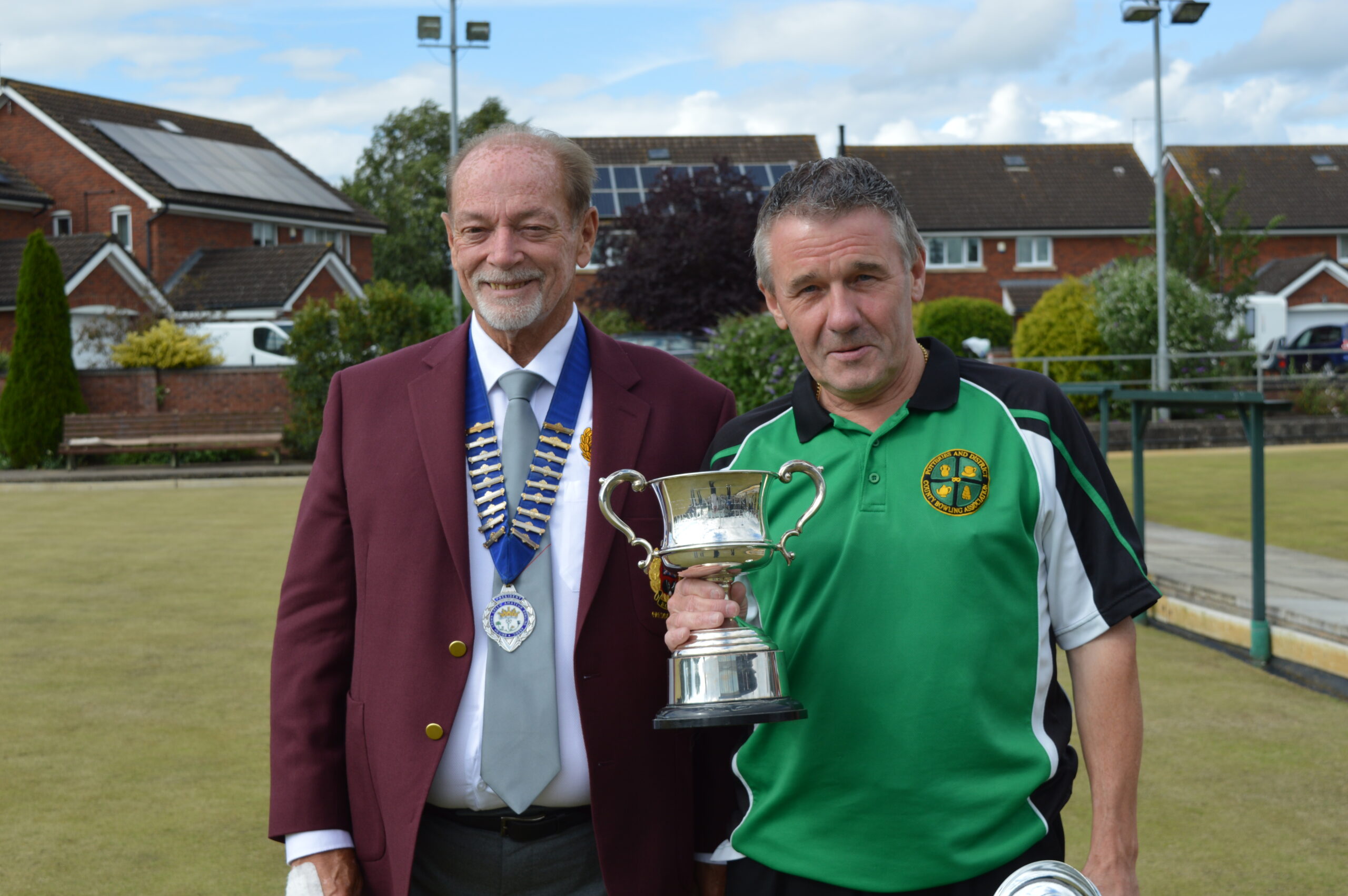 Scroll down for previous years results
History of the BCGBA Jack & Jean Isherwood Veterans Championship
x
2023     Martin Simcock
2022     Andy Proctor
2021     Keith Pessall
2020     No Competition
2019     Paul Stretton
2018     Ian Johnson
2017     Gerald Merry
2016     Noel Burrows
2015     Michael Leach
2014     Andy Mailer
2013     Alan France
2012     David Walker
2011     Merwyn Williams
2010     Tony Rawlinson
2009     Rodney Ross
2008     Frank Griffin
2007     Tony Rawlinson
2006     Arthur Bromley
2005     Branny White
2004     Branny White
2003     Eddie Lonergan
2002     Roy Sutton
2001     Derek Heath
2000     Roy Armson
1999     Eric Williams
1998     Roy Armson
1997     Dave McLoughlin
1996     Eddie Hawley
1995     Joe Bradbury
1994     Roy Armson
1993     Joe Bradbury
1992     Bert Christian
1991     Joe Bradbury