British Crown Green Bowling Association
.
BCGBA WORLD CLUB CHAMPIONSHIP
.
BCGBA WORLD CLUB CHAMPIONSHIP
Spen Victoria Cricket, Bowling & Athletic Club, Spen Lane, Gomersal, Cleckheaton BD19 4PJ
FINALS – Sunday 16th April
FENTON PRIVATE (Potteries & District) scored a tremendous victory in the opening BCGBA competition of the season denying the defending champions, Pudsey (British Parks), a second successive title in the World Club Championship.  The 'Potters' won by 18 chalks when all scores were added up at Spen Victoria Cricket, Bowling & Athletic Club in Yorkshire with Gary Owen's 21-9 card proving crucial in an otherwise close match.
The jacks were equally shared in the first four blocks with Owen's single-figure victory ensuring his side took a slender two-chalk lead going into the final four games.  James Hanson put the holders back in front following a 21-18 success but Fenton hit back by claiming the remaining three cards to secure the first victory in the competition.
Fenton, having defeated Garswood Hall (Lancashire) and the 2017 winners, King George V (Warwick & Worcester), to qualify for finals day, made their way to the final by first overcoming the challenge of The George Warley (Warwick& Worcester) by 12 chalks in a close game throughout.  Their semi-final opponents, Crossland Moor from the host county, proved another tough test but it was thanks to Steve Morrey's 21-4 card that his side made it through to the final.
Pudsey's day started with a 27-chalk victory over two-time champions, Parkfield Labour (North Lancs & Fylde).  They got off to a great start thanks to Gary Wyke's 21-5 card, supported by Tom Hanson who won 21-9.  They got the better of Derbyshire's Stretton Anglesey at the penultimate stage with James Hanson (21-5) and Jon Edmondson (21-9) instrumental in their 38-chalk success.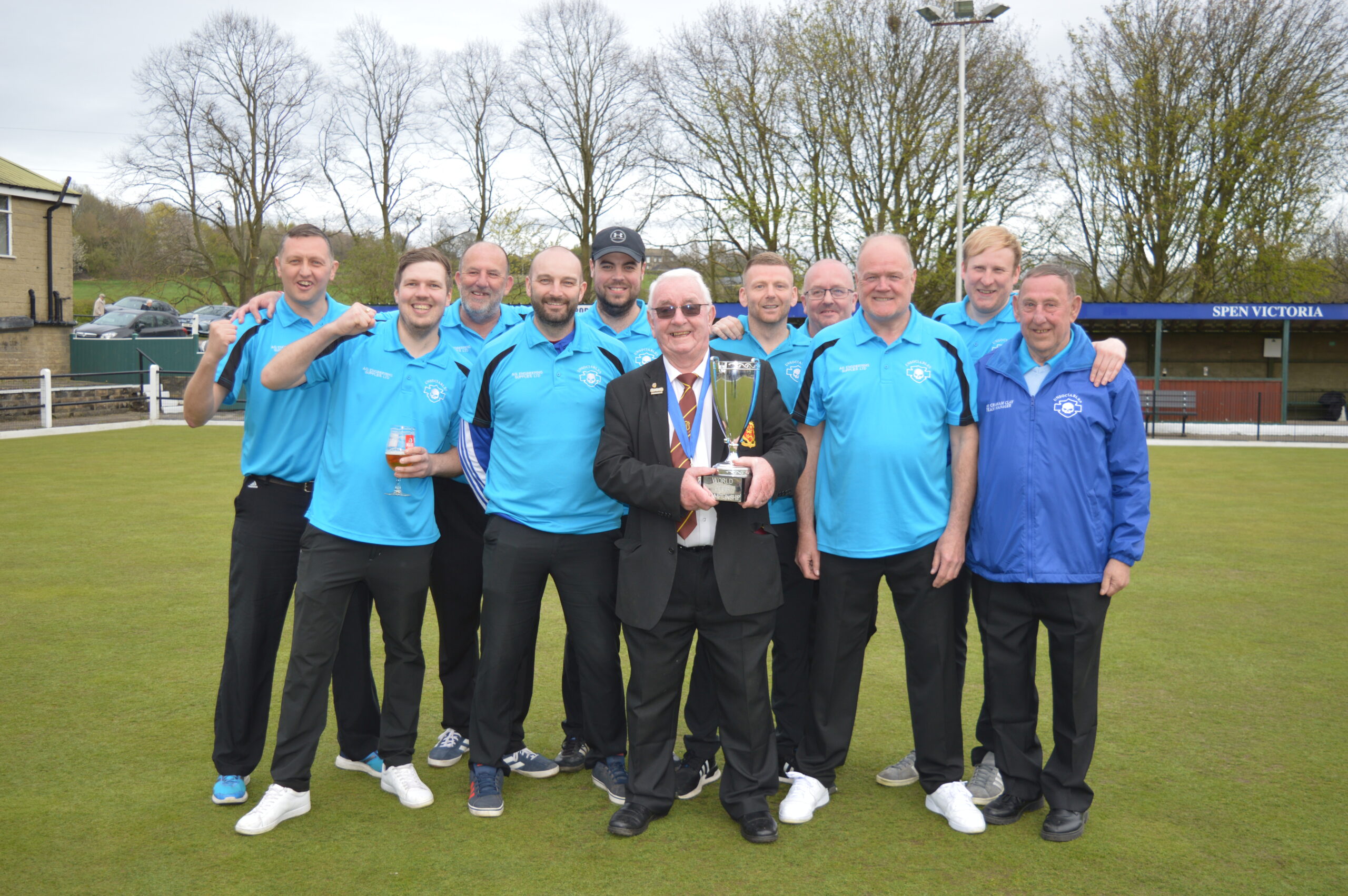 WEEK 1 – Sunday 19th March
Defending champions, Pudsey, successfully cleared the opening two rounds of the World Club Championship to book their place in the final eight on Sunday 16th April.  The British Parks champions defeated Cunliffe (Wales) by 65 and Haunchwood (North Midlands) by 45, losing just a solitary game in each match.  Josh Mordue (21-8), dad Chris (21-9) and David Poole (21-9) were the star performers against Cunliffe while James Hanson's 21-4 victory was the stand-out card against Haunchwood.
The George Warley (Warwick & Worcester) who accounted for Atherstone Cons (North Midlands) by 4 and Lindal (Cumbria) by 42 will join them on finals day.  Mark Wilson's crucial 21-8 card secured victory over Atherstone Cons in a hard-fought match with both sides claiming four winners each.  Wilson led the way against Lindal with a resounding 21-4 success with Adam Patrick (21-5) and Paul Hemming (21-9) also in top form.
Pudsey drew number 2 on finals day with The George Warley drawing number 5.
WEEK 2 – Sunday 26th March
Stretton Anglesey (Derbyshire) and Fenton Private (Potteries & District) were the latest qualifiers from the second week of qualifying, booking their place in next month's finals.
Stretton Anglesey won a hard-fought encounter with Yorkshire's Littlemoor Sports & Social despite only having three of the eight winning cards.  Connor Chamberlain's opening 21-4 card proved vital in their 13-chalk victory.  They booked their place in the final courtesy of a comfortable 47 chalk defeat of King Alfred (Cumbria) who had defeated their Welsh opponents, Mold, by 10 in round one.  Connor Chamberlain was again in top form, winning 21-9 but Neil Brown claimed the sweep with his 21-5 card with Darren Carter (21-7) claiming second sweep.
Fenton Private eased past Garswood Hall inflicting a heavy 64 chalk defeat on the Lancastrian side.  Matt Hill (21-4), Darren Clutton (21-6), Steve Morrey (21-7) and Nick Tideswell (21-8) were the best of their six winners.  In round two, despite having only three winning cards against the 2017 champions, King George V (Warwick & Worcester), had Darren Clutton to thank as his 21- 3 victory earned the 'Potters' a place in finals day with 19 chalks to spare.
Stretton Anglesey drew number 3 on finals day while Fenton Private drew 6 and will face The George Warley in the last eight.
WEEK 3 – Sunday 2nd April
Former winners, Lloyd Hotel (Cheshire), and Crossland Moor (Yorkshire) were this week's winners to qualify for finals day.
Lloyd Hotel, champions in 2012, came through a tough opener against Staffordshire's Woodman Mount Pleasant. With the winning cards shared four apiece, the Cheshire champions got home with six shots to spare in a high-scoring match.  They progressed to finals day courtesy of a 28-chalk victory over Birches Head Hotel (Potteries & District).  They found themselves five shots behind at the halfway point but a timely 21-2 card from Adam Bishop settled the nerves with Lloyds winning all remaining games.
Crossland Moor had an easier time of it with two convincing victories.  In round one they accounted for South Ramsey (Isle of Man), losing just two games in a 36-chalk victory then in round two defeated Hopwood (Greater Manchester) by 40 with Denise Hodge (21-13) being the only winner for the Mancunians,
Lloyd Hotel drew number 4 on finals day and will play Stretton Anglesey while Crossland Moor drew number 7 but must wait until the following week to find out their opponents.
On a sad note, South Ramsey mourned the passing of their Treasurer, Chas Grills, who was due to play for the team against Crossland Moor.  Our thoughts are with family and bowling colleagues of Chas at this difficult time.
WEEK 4 – Sunday 9th April
Two-time champions, Parkfield Labour (North Lancs & Fylde), and South Yorkshire's Meersbrook, were the final two qualifiers in this season's championship.   
Parkfield Labour first defeated debutants Manor Road (Merseyside) by 29 in the first round, winning seven of the eight jacks with 'Manors' Matt Gilmore the only winner for the Merseysiders.  In round two they trailed Willenhall Nordley (Staffordshire) by 13 with three games left on the green and only claimed a solitary winner.  It was left to the experienced Michael Leach and Gary Ellis to see their side through to finals day with wins of 21-5 and 21-7 respectively.
Meersbrook lost the opening three games against Ifton (Shropshire) but was thankful for Andy Whittaker's late 21-7 card to see them progress to round two with 23 chalks to spare.  And it was a similar story in round two as Greater Manchester's Hollinhurst opened up a 12 chalk lead from their three winners only to see the South Yorkshire side claim the remaining five jacks and a 9 chalk overall victory in a hard-fought match. 
Parkfield Labour drew number 1 on finals day and will play the defending champions, Pudsey, while Meersbrook drew number 8 and will face Crossland Moor (Yorkshire).
History of the BCGBA World Club Championship / Club Championship
x
World Club Championship
2023     Fenton Private (Potteries & District)
2022     Pudsey (Yorkshire)
2021     No competition
2020     No competition
2019     Greville Arms (Warwick & Worcester)
2018     Parkfield Labour (North Lancs & Fylde)
2017     King George V (Warwick & Worcester)
2016     Parkfield Labour (North Lancs & Fylde)
2015     Thongsbridge (Yorkshire)
2014     M&B Cheslyn Hay (Staffordshire)
2013     St Josephs (North Lancs & Fylde)
2012     Lloyd Hotel (British Parks)
2011     St Josephs (North Lancs & Fylde)
Club Championship
2010     Tonge (Greater Manchester)
2009     Lloyd Hotel (Cheshire) / Tonge (Greater Manchester)
2008     Tonge (Greater Manchester)
2007     Budenberg (Cheshire)
2006     Lower Hopton (Yorkshire)
2005     Castlefields (Shropshire)
2004     Chester Road (Shropshire)
2003     Garswood Hall (Lancashire)
2002     Spen Victoria (Yorkshire)
2001     Middleport Park (Potteries & District)
2000     Garswood Hall (Lancashire)
1999     Garswood Hall (Lancashire)
1998     The George (Warwick & Worcester)
1997     Castlefields (Shropshire)
1996     Millhouses Park (South Yorkshire)
1995     Sale Excelsior (Cheshire)
1994     Garswood Hall (Lancashire)
1993     Castlefields (Shropshire)